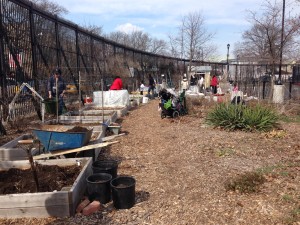 On March 15th, 2014 a lottery was held to determine which plots would be assigned to both new and returning gardeners. Returning gardeners were asked if anything remained in their 2013 plot that it be moved to their new location or to get in touch with the person who will garden in that plot for the 2014 season to work out a schedule. This was mostly for gardeners of braved this particularly brutal NY winter and still had crops sheltered under canopy to protect them from the bitter cold. The following was a quick update from our garden coordinator Sigrun from over the winter;
"The garden is pretty quiet right now. Several gardeners have winterized their plots and continue to cultivate a few cold-hardy crops under cover. We also continue to compost kitchen scraps. Later in January or in early February we will visit the stables near Prospect Park to collect horse manure for composting. In late winter/early spring, we may also get woody mulch (for our paths) from arborist Emil Ellenbogen. We'll start our vegetable growing season in March when we (re-) distribute plots. And as soon as it warms up in March/April, we'll cut back perennials."
As stated, for all gardeners — plot redistribution was completed on 3/15/2014 and soil preparations began on Saturday, 22nd respectively, and will continue every Saturday though spring, weather permitting. As per years past, we always did this step as a group and Sigrun (our trusty garden coordinator) will be on call to answer any questions. If Saturdays does not work for any particular gardener, please reach out to Sigrun for an alternate time via the BC garden email address.
Plots and Gardeners 2014
1. John Grant and Cecile Kidd
2. Regina Morrow
3. Hanah Chapman and Margrethe Horlyck-Romanovsky
4. Rafael Cuevas
5. Marlon Marcelle
6. Murray Lantner, Moran Ben-Shaul, et al.
7. Rosita Azuma
8. Thomas Mollaghan
9. Shalawn Facey
10. Andrea Del Valle
11. Tunji Fussell
12. Lucille Pascall
13. Debra Quashie
14. Helen Brereton
15. Marcus Richardson
16. Thomas Doherty
17. Paul Cole
18. Millicent Grant
19. Jennifer Clarke
20. Rick Wells
21. Leana Dominguez
22. Chad Pilieri
23. Officer Sherry
24. Don Quigley
25. Kaitlyn Kroll and Heylan Tsumagari
26. Justin Lau and Patrick Lloyd
27. Minda Novek
28. Melissa Keng and Amanda Lee
HAPPY GARDENING! Here's to the start of another great year!